"Integrating History: The Role of Alamo Plaza in Bexar County's Civil Rights Legacy"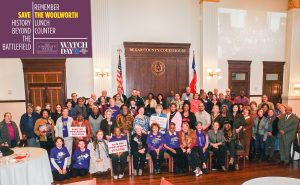 On February 1, 2020 we held our Woolworth Watch Day event.  This symposium explored the rich civil rights history of Bexar County with a special focus on Alamo Plaza (Photos coming soon).
Watch online to learn why the endangered Woolworth Building is necessary to tell the plaza's full and authentic history.  
Read the coverage in the Rivard Report and UTSA's The Paisano.
February 1st also marked the 60th anniversary of the Woolworth's lunch counter sit-in in Greensboro, North Carolina. On that day in 1960, four African American college students challenged segregated service, inspiring a national protest movement.
San Antonio joined the Sit-In Movement in March 1960.  The Woolworth Building served as the epicenter of the voluntary and peaceful integration of seven downtown lunch counters on March 16th.  The recent inclusion of San Antonio's Woolworth Building on the 2020 World Monuments Watch List underscores the importance of this integration story.
Presenters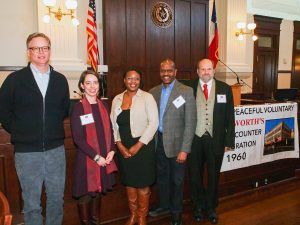 Everett Fly, FASLA, San Antonio: "Alamo Plaza in Civil Rights History, 1883-1960"
Dr. Tara Dudley, University of Texas at Austin: "National Register listings and the African-American Experience"
Dr. Bruce Winders, Bexar County: "Telling Multiple Stories in a World-Class Museum"
Dr. Todd Moye, University of North Texas: "Bigger Than a Hamburger: The Sit-In Movement in Texas"
Dr. Kathryn O'Rourke, Trinity University: "Come and Take It: Alamo Plaza, the Woolworth, and the Unfinished Work of Forming a More Perfect Union"