PRESERVATION ALERT – Sign our petition!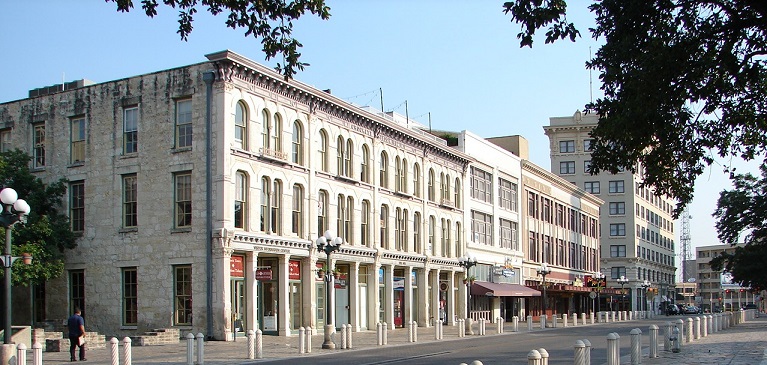 Encouraging news – our city officials are starting to listen, keep up the good work!
We have created a petition to City Council, the Mayor, and the Texas General Land Office, to let them know we oppose key components of the recently proposed Alamo Interpretive Plan.  Join us and let our officials know we want Alamo Plaza to be kept open and intact!  Don't let the State fence us out!
You do NOT need to be a San Antonio resident to sign.
To sign the online petition, click here.
To print for distribution, click here.
NOTE: We will collect hard copies of signed petitions here at our headquarters, located at 107 King William Street, San Antonio TX 78204, and distribute them to the Mayor, City Council, and the Texas General Land Office.
With the unveiling of the draft of the Alamo Interpretive Plan, we find ourselves going back on the record to defend:
The preservation of the Crockett Block, Palace Theater, and Woolworth Building for reuse as a museum.
An interpretation that embraces the continuum of history from the establishment of Mission San Antonio de Valero (part of the Missions World Heritage designation) to the plaza's post-battle development into the heart of late-19th and early-20th century San Antonio.
Keeping the Alamo Cenotaph where it is.
Maintaining the Battle of Flowers parade route through Alamo Plaza; a San Antonio tradition since 1891.
Accessibility to the plaza as a civic space for local residents, not a State park for visitors.
Society President Susan Beavin has raised some of our concerns in these Express- News and Rivard Report articles.
The public is invited to attend the meeting of the Alamo Citizen Advisory Committee on Tuesday, July 10, in Prassel Theatre at the Witte Museum, 3801 Broadway. The meeting will start at 6:00 pm and and will include an update on long-term plans to improve the Alamo, but no public comments.   The next Alamo Public Meeting for comments will be on Wednesday, July 18th at Thomas Jefferson High School, starting at 6:30 pm.