PRESERVATION ALERT – Woolworth Building Designated!
Thanks to all who helped support our State Antiquities Landmark nomination, but don't stop yet!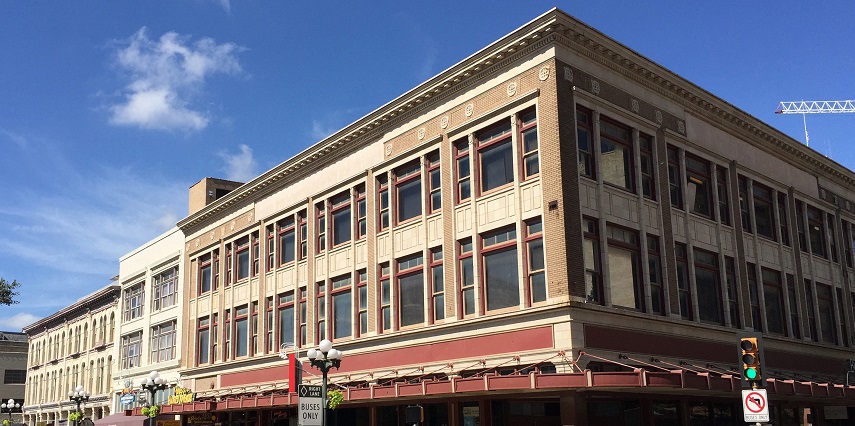 On Friday, May 10th, the Texas Historical Commission gave San Antonio an extra reason to celebrate May as Preservation Month.  Members voted unanimously to approve the Woolworth Building's State Antiquities Landmark designation.  This honor not only officially recognized the building's ties to national Civil Rights history, but granted the building an additional level of protection under the Texas Antiquities Code.
However, even as we celebrate this milestone, we must stay active as preservation advocates.  None of the building's historic designations – local, state, or national – can prevent demolition.  Only ongoing, visible, and vocal public support for preservation may help persuade the GLO to reuse the Woolworth Building as part of the new Alamo museum.
The Woolworth Building stands as a visible link to an important Civil Rights achievement.  In 1960, it helped San Antonio become the site of the first peaceful, voluntary lunch counter integration of the national sit-in movement.  Learn more.
What Else You Can Do
Contact the state officials listed at the bottom of this page. Tell them you support reusing the Woolworth Building as part of the new Alamo museum.
Now you can view the compromise plan proposed at the Society's May 7th press conference.  Share your thoughts with us on Facebook and Twitter #SavetheWoolworth.
Please contact:
George P. Bush, Commissioner, Texas General Land Office
E:mail: http://www.glo.texas.gov/contact/email-us/index.html
Phone: 1-800-998-4GLO (4456)
Senator José Menéndez (District 26 – Downtown San Antonio)
Phone: (512) 463-0126 (Capitol) or (210) 733-6604 (District Office)
Representative Diego Bernal (District 123 – Downtown San Antonio)
Phone: (512) 463-0532 (Capitol) or (210) 308-9700 (District Office)
The Coalition for the Woolworth Building is a grass-roots advocacy group. We support the preservation of the Woolworth Building and want to build on its presence in Alamo Plaza to share an integrated history that includes African-Americans. Members include: San Antonio African American Community Archives and Museum; Esperanza Peace and Justice Center; Westside Preservation Alliance; Concerned historians, civic leaders, and community members; and the San Antonio Conservation Society.