PRESERVATION ALERT – World Monuments Fund CEO speaks out from Alamo Plaza
New! 

Benedicte de Montlaur interview courtesy of David Arias-Rios, Jan. 31, 2020.
"World Monuments advocate touts keeping Woolworth site" – San Antonio Express-News, Jan 31.
About the Woolworth Building
The Woolworth Building stands as a visible link to an important Civil Rights achievement.  In 1960, it helped San Antonio become the site of the first peaceful, voluntary lunch counter integration of the national sit-in movement.  Learn more with this printable brochure.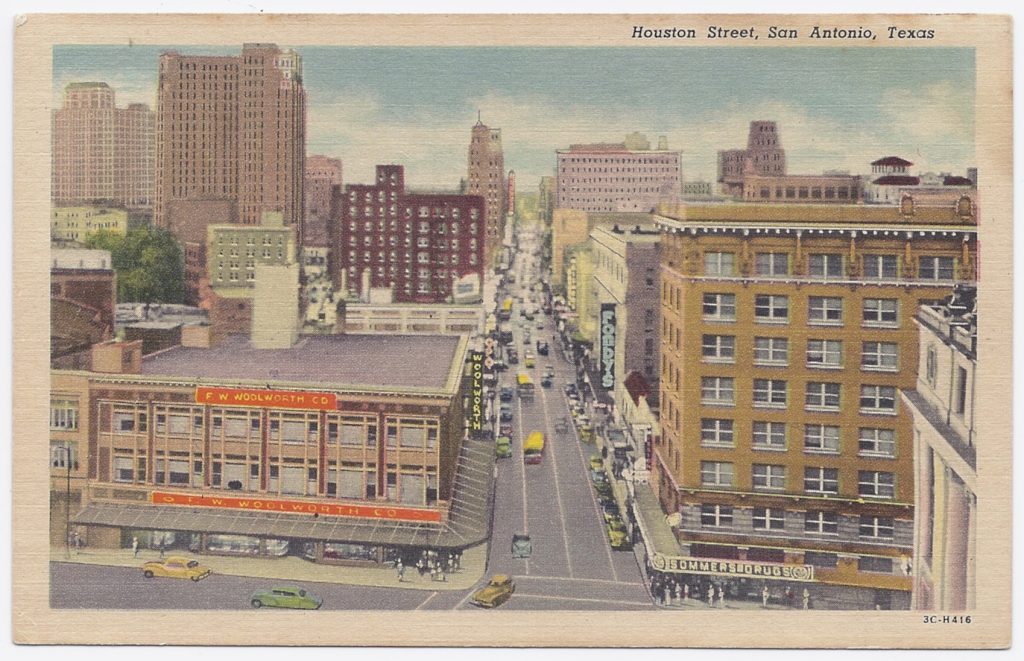 About the World Monuments Watch List
The 2020 World Monuments Watch helps communities protect their irreplaceable sites for future generations. The Woolworth Building is one of 25 international sites (and just one of three in the U.S.) on the 2020 Watch list.
We are included in this powerful World Monuments Fund video, and have been featured in the New York Times, and on CNN.  Many thanks to Bexar County Judge Nelson Wolff for his steadfast support!
However, even as we celebrate this milestone, we must stay active as preservation advocates.  None of the building's historic designations – local, state, or national – can prevent demolition. 
Only ongoing, visible, and vocal public support for preservation may help persuade the GLO to reuse the Woolworth Building as part of the new Alamo museum.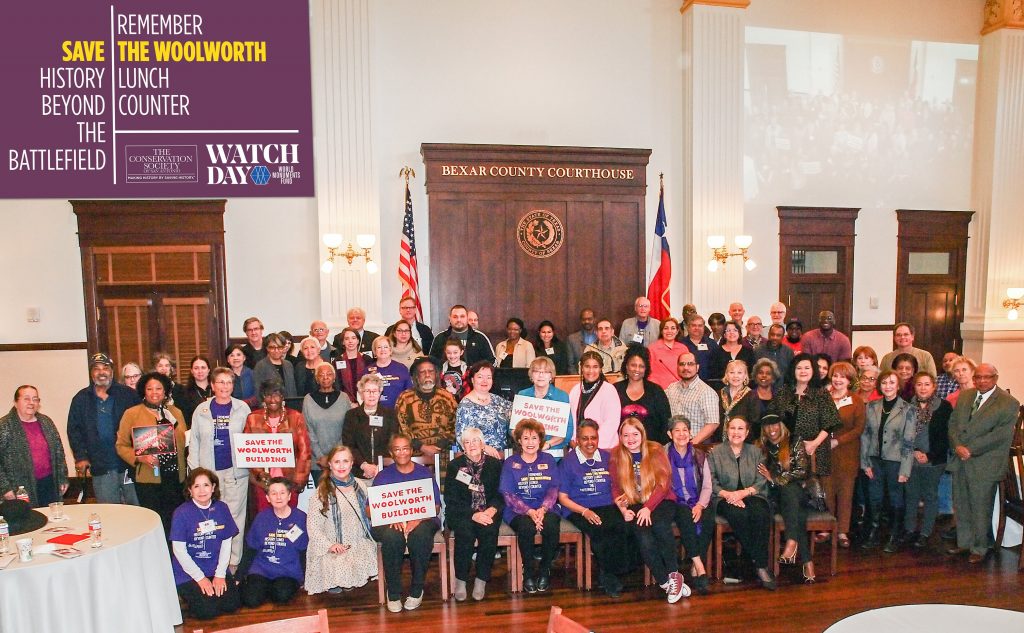 Please continue to contact the government officials listed below and help share our story on social media with these tags and handles:  #WorldMonumentsFund #WMF.  Twitter and Facebook: @worldmonuments, Instagram: @worldmonumentsfund
Please contact:
Governor Greg Abbott
Phone: (512) 463-2000 (Main Switchboard: 8AM – 5PM)
George P. Bush, Commissioner, Texas General Land Office
Phone: 1-800-998-4GLO (4456)
Representative Barbara Gervin-Hawkins (State Culture, Recreation & Tourism Committee)
Phone: (512) 463-0708 (Capitol) or (210) 333-0245 (District Office)
Senator José Menéndez (District 26 – Downtown San Antonio)
Phone: (512) 463-0126 (Capitol) or (210) 733-6604 (District Office)
Representative Diego Bernal (District 123 – Downtown San Antonio)
Phone: (512) 463-0532 (Capitol) or (210) 308-9700 (District Office)
Representative Will Hurd (U.S. District 23 and Alamo Management Committee)
Phone: (210) 921-3130
Councilman Roberto Treviño (City of San Antonio, Council District 1 and Alamo Management Committee Chair)
Phone: (210) 207-7279
2019 Milestones
October – Woolworth Building selected as one of 25 World Monuments Watch sites for 2020! This international listing recognizes that our site combines great historical significance with contemporary social impact.
Our ofrenda for Mary Andrews, a local Civil Rights heroine, won second prize at Muertos Fest in Hemisfair.
August – The Society of Architectural Historians wrote to Gov. Greg Abbott supporting our cause. Read the letter.
The Coalition for the Woolworth Building enthusiastically welcomed the San Antonio Branch NAACP as an official affiliate.
July – View video – Conservation Society Executive Director Vincent Michael and historian Everett Fly, representing the Coalition for the Woolworth Building, discussed the importance of preserving San Antonio's Civil Rights sites with Randy Beamer on WOAI News 4.
May – the Texas Historical Commission gave San Antonio an extra reason to celebrate May as Preservation Month.  Members voted unanimously to approve the Woolworth Building's State Antiquities Landmark designation.  This honor not only officially recognized the building's ties to national Civil Rights history, but granted the building an additional level of protection under the Texas Antiquities Code.
Our Coalition
The Coalition for the Woolworth Building is a grass-roots advocacy group. We support the preservation of the Woolworth Building and want to build on its presence in Alamo Plaza to share an integrated history that includes African-Americans. Members include: San Antonio Branch NAACP; San Antonio African American Community Archives and Museum; San Antonio for Growth on the East Side; Esperanza Peace and Justice Center; Westside Preservation Alliance; National Institute of Mexican American History of Civil Rights; concerned historians, civic leaders, and community members; and The Conservation Society of San Antonio.