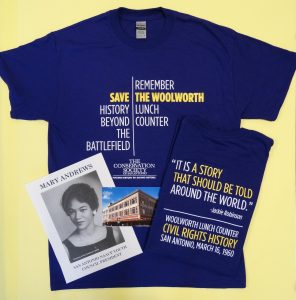 Save the Woolworth T-Shirt – now available online

San Antonio's Woolworth Building was named to the World Monuments Fund's 2020 WATCH List last fall. Now, you can WEAR an eye-catching t-shirt to show your support for preserving this endangered Civil Rights landmark.
Woolworth's played an important role in San Antonio's peaceful and voluntary lunch counter integration on March 16, 1960 – an event praised at the time by baseball great Jackie Robinson.
These cotton-blend t-shirts feature a rallying cry on the front and a quote from Jackie Robinson on the back, sending a message both coming and going.  Available in sizes M, L, and XL while supplies last.  Sizes run small, so consider ordering the next size up. (Photos in illustration are not printed on T-shirt).
Buy your Save the Woolworth shirt, now, because the struggle to preserve and interpret African American heritage places is ongoing!
Juneteenth virtual marchers looked great in these t-shirts as they represented the cause in front of the former Woolworth's on Alamo Plaza.  We were honored to start the video countdown series on June 3rd with Mrs. Dorothy Collins.  Mrs. Collins is one of the first African American teachers to have integrated the faculty of San Antonio's public schools.  For the full series, see Countdown to Juneteenth.