San Antonio Conservation Society Announcment
Monday, February 19, 2018
The Society honors the memory of retired civil engineer Douglas Steadman (1926 – 2018) and former board member Patsy Steves (1927 – 2018). Both left a legacy of valuable contributions to our city and will be greatly missed.
Doug Steadman received the Society's Texas Preservation Hero award in 2002.  He served as as a tireless advocate for the preservation of the Hays Street Bridge and led efforts to designate the bridge as a Texas Historical Civil Engineering Landmark.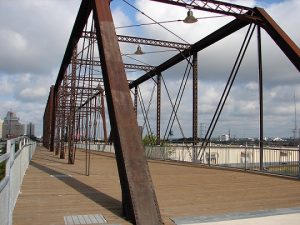 Patsy Steves, wife of the late Marshall T. Steves, Sr., served as an influential member of several national and local cultural organizations.  She joined the Society in 1962 and was first elected to the board of directors in 1970, while on the Old Ursuline Convent Property Committee.  She and her husband also donated several family items to the Steves Homestead, the Society's house museum that originally belonged to her husband's great-grandparents, Edward and Joanna Steves.