San Antonio Conservation Society Announcement
Thursday, February 08, 2018
The fate of the historic gas station at 901 S. Nogalitos hangs in the balance until March 18,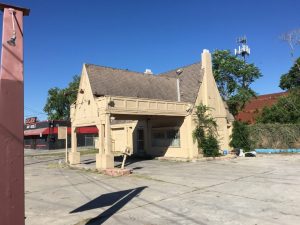 when City Council will determine whether to approve landmark designation or allow the owner to pull a demolition permit.   A prime candidate for adaptive use, the distinctive 1934 building that sits near the new San Pedro Creek trailhead could become a success story, instead of a vacant brownfield, if designated.
Executive Director Vince Michael tells the story of the Society's quest to designate the city's only remaining Pure Oil Gas Station and explores its potential for reuse in his blog article, "Gas Station – Why Demolish an Opportunity?"  The current owner wants to sell the property that contains the historic gas station, but opposed landmark designation and has applied for a demolition permit.
In 2012, the City Council of Geneva, Illinois faced almost the same scenario, involving the owner's request to demolish a 1930s Pure Oil station.  Because Geneva's council recognized preservation's importance to their civic identity, the gas station now serves the community as a branch of the Geneva Bank & Trust.
New development is emerging along the Flores and Nogalitos corridors between Cevallos St. and San Pedro Creek.  Art galleries, rustic restaurants, and tech companies are among the diverse businesses choosing to locate in this area south of downtown. What could the station at 901 S. Nogalitos become for San Antonio?
We are trying to help find the right buyer for all or part of the site before the DEADLINE of March 18.  For more information, contact Vince Michael at vmichael@saconservation.org.