San Antonio Conservation Society Announcement
May 15, 2018
SAY Sí's middle and high school student-artists illuminate  San Antonio's neglected history in the exhibition, "Stories Seldom Told: Omitted Histories." Part of this year's exhibit draws inspiration from the neighborhood that once existed on the Hemisfair site.  The colorful posters and a 3-D mini-map of the original neighborhood are appealing and thought-provoking.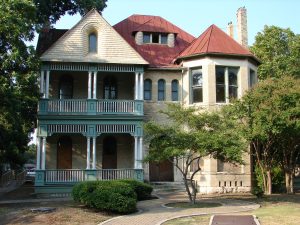 As early as 1961, the Society began surveying and lobbying for the preservation of historic buildings in the HemisFair area.   As a result, 22 original structures were saved and incorporated into the site – a first for any world's fair.  We have continued to promote the appreciation, preservation, and reuse of the HemisFair houses over the decades.
SAY Sí has generously offered to give the donations collected at this exhibit, plus proceeds from the sale of an art sticker, to the Society to support of our ongoing preservation mission.
FREE and open to the public
Opens May 4, 2018 | 6 – 10 p.m.
Runs through June 2, 2018
SAY Sí | 1518 S. Alamo, 78204
saysi.org
The San Antonio Conservation Society Foundation Library provided photographic images for the students to interpret and transform, plus additional information from the library's online exhibit: "HemisFair '68: A Confluence of Photographs."