City Council – June 13, 2019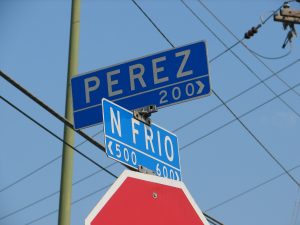 The 200 block of Perez Street is located behind University Health System's Robert B. Green medical campus, whose main entrance is at W. Martin and Leona Streets.  Parking lots now dominate this stretch of Perez Street.   But, historic street names can provide visual ties to our shared community heritage and this street likely honors Lt. Col. Ignacio Perez, one of the last governors of Spanish Texas.
Two 1850s landmark structures stand unexpectedly at 215 and 219 Perez, survivors of an early Westside neighborhood.  The two-story house and recently stabilized jacal represent the Society's successful cooperation with University Health System (UHS) to preserve local history.  City Council's approval of UHS's  request to change the 200 block of Perez Street to Robert B. Green Way reflects the opposite.
Both the Society and the Office of Historic Preservation had suggested creating a memorial street name to honor Judge Robert B. Green, for whom the medical complex is named, while retaining the Perez name and its connection to San Antonio's Spanish history. Former Society president Nancy Avellar delivered our statement to City Council proposing this compromise. Unfortunately, this item was placed on the consent agenda, where it received less thorough consideration than it deserved.
In 2012, the same proposed name change was defeated thanks to preservationists' pushback and coverage in the Express-News.  Back then, UHS withdrew its request "out of respect," according to one of its senior vice-presidents. We wish that respect for the historic street name had been more enduring.