03febAll Day05FeaturedReal Places 2021 Conference
Event Details
Real Places 2021 Conference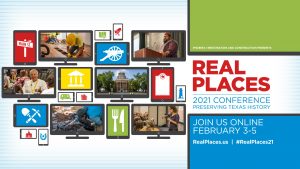 Real Places is the premier historic preservation and heritage tourism conference in the Lone Star State, where anyone interested in protecting our past can work directly with industry-leading experts to learn practical, actionable solutions they can apply in their community. Presented by Phoenix I Restoration and Construction and hosted by the Friends of the Texas Historical Commission, Real Places 2021 will take place online, February 3–5, 2021.
Learn more and sign up at realplaces.us
Register for just $125.
_________________________________________________________________
more
Time

february 3 (Wednesday) - 5 (Friday) CST
Organizer
Friends of the Texas Historical Commission