Jackie Robinson, the African American baseball great who integrated the major leagues and praised San Antonio's lunch counter integration, must be smiling . . .
We're so excited to announce the Woolworth Building is one of 25 sites named to the 2020 World Monuments Watch List!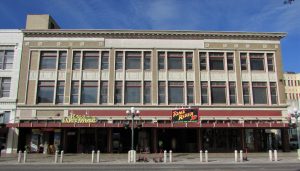 This international  listing recognizes the Woolworth Building as a site of great historic significance and contemporary social impact.  The former store stands out as one of only three sites in the United States to make the list, and one of seven featured in the World Monuments Fund's video.
Please be sure to visit our Call to Action to find out how to contact State officials near the bottom of that page.  Ask them to respect and include African American history on Alamo Plaza by preserving this multi-cultural landmark.