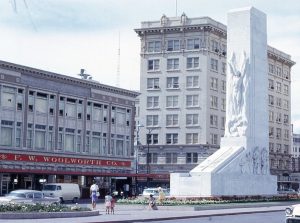 September 1, 2020 – The story of San Antonio's Woolworth Building continues to appeal to a wider audience.  The endangered Civil Rights landmark appeared in the summer issue of The National Standard, the official newsletter of the National Federation of Tourist Guides Association. Conservation Society President, and Certified Professional Tour Guide, Patti Zaiontz provided the article.
Readers get two stories:  one about the important role the building played in the voluntary desegregation of downtown lunch counters in 1960, and the second about ongoing efforts to save the building .  Working together, the Society, the Coalition for the Woolworth Building, and the World Monuments Fund want to keep the Alamo Plaza building standing as an inspirational link to the 20th century African American struggle for freedom, and the peaceful victory achieved at that very prominent and symbolic location.
Want to help?  Please contact the government officials listed on our Call to Action page.
The San Antonio Conservation Society Foundation Library also contributed to the article.