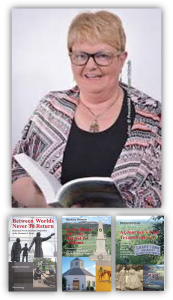 Germans in San Antonio:
What They Came For, What They Found, What They Achieved
Tuesday, March 26, 2019 – 7:00pm
River House Behind the Steves Homestead – 509 King William, San Antonio, Texas 78209
Cost: $10 members/ $15 non-members
Barbara Ortwein, acclaimed author of a trilogy of Texas Hill Country historical novels, will arrive from Prague to present a very special talk with live-music from the "Old Country". Born in Munster in Westphalia, Germany retired teacher Ortwein was a Music and German high school teacher who led her school's Texan German School exchange program for 17 years.
It was during her many trips to Texas that she became enthralled with the historical connection to those of German descent whose ancestors came to Texas so many years ago. She embarked upon a research and genealogical reference project that led her to author her first historical novel about the emigration of the Germans to Texas between 1844 and 1847 titled BETWEEN TWO WORLDS, NEVER TO RETURN. Great interest in the subject propelled her to write two more novels following the immigrants' saga.
Barbara Ortwein will present her multi-faceted program on Tuesday, March 26th at 7pm in the Riverhouse at the Steves Homestead.