Description:
Local watercolor artist and longtime Society member Caroline Shelton created NIOSA's first official poster in 1983, the same year that the San Antonio Art League named her Artist of the Year. This poster featured NIOSA's headquarters at 511 Villita Street as a backdrop for a colorful, costumed crowd that included some of NIOSA's most memorable characters: Pancho Villita (in large sombrero and serape), the Bird Man (in white with red bandana, carrying his birdcages) and the Huichol Shaman (in white and blue beneath an ornate, tiered staff).

Mrs. Shelton's poster started a new tradition. She painted a different area of NIOSA from 1983 to 1988, and also created the 1992 and 1993 NIOSA posters. After her death in 1993, various local artists continued to capture the spirit of NIOSA in a commemorative poster made available for sale each year.


Date:
1983
Credit Line:
Poster by Caroline Shelton, Courtesy of A Night in Old San Antonio
ID Number:
UNC—1983—0001
Click to Enlarge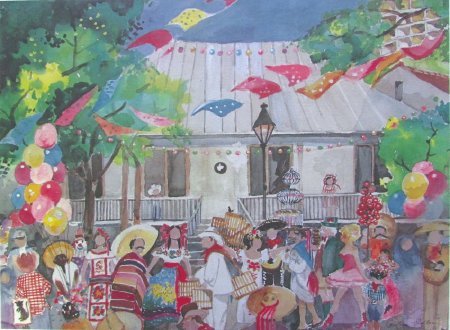 1983 NIOSA Poster by Caroline Shelton.