Description:
The "Huichol Shaman." Clifford L. Wallace (left) first led the opening parade in 1976 wearing the traditional clothing of the Huichol, a native group from the current Mexican states of Nayarit and Jalisco. An avid collector of Mexican folk art, Wallace put together his costume from his extensive collection of authentic Mexican Indian clothing. He portrayed himself as a "shaman" (medicine man or healer) with bolsas, or bags, of imaginary potions, amulets, and talismans. His son, Christopher (right), joined him in leading the parade as a freshman in college. Father and son continued to open the NIOSA festivities together until Clif died in 1994. Christopher has since donned the shaman's costume and continued the tradition.


Date:
1984
Credit Line:
Photo by Michael Cappelli, Courtesy of the San Antonio Conservation Society Foundation
ID Number:
2008—0102A
Click to Enlarge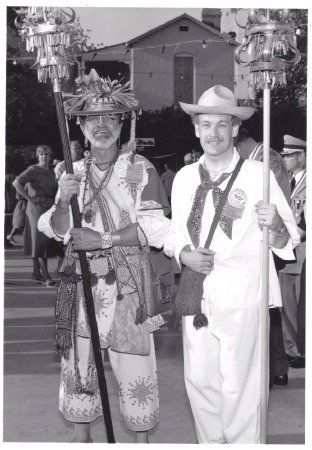 Father and son lead the opening parade, 1984.