History:
Outside the compound, the labores (farms) provided crops of corn, beans, chili peppers, melons, fruit and cotton.

The Spanish mission plan called for a ten-year program, but this little mission lasted a total of 134 years from the time of its initial establishment in East Texas. Eighty-three of those years took place in San Antonio, before complete secularization in 1824. At that time, mission land and property were divided among the residents, and the outlying farmlands were sold at public auction. The indigenous families and Spanish settlers continued to live in the mission dwellings for many years. The chapel, however, eventually ceased to be used for worship services.


About this Image:
1) An aerial view of Mission Espada, showing the chapel at center. With most of the outer mission walls gone, the former farmland outside the mission compound can clearly be seen. Photo taken by F.J. Schmidt.


To Learn More:
Credit:
Courtesy of the San Antonio Conservation Society Foundation.
Click to Enlarge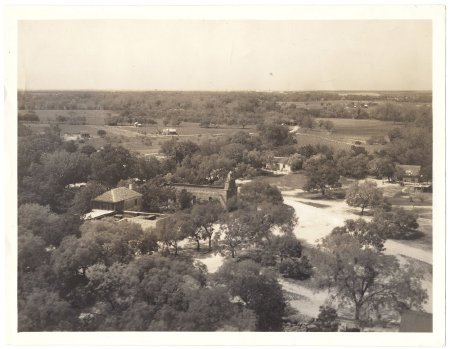 c. 1935