History:
The beautiful San Antonio chain of missions is now a part of the San Antonio Missions National Historical Park under the supervision of the U.S. Department of the Interior, National Park Service.

On July 5, 2015, the San Antonio missions became the first Texas site to receive World Heritage designation from the United Nations Educational, Scientific and Cultural Organization (UNESCO). The missions, as an intact group of related sites, represent "the interweaving of the cultures of the Spanish and the Coahuiltecan and other indigenous peoples" (whc.unesco.org). Their high degree of historical authenticity makes them of outstanding cultural value to the international community.


About this Image:
Archbishop Flores addresses a crowd at the Feb. 20, 1983 signing of the Missions National Park Cooperative Agreement. The identification of the dignitaries is as follows: Left to Right:
Robert Kerr; Bishop Charles Grahmann; Lynn O. Bobbitt, San Antonio Conservation Society President; James Bell, Director, Texas Parks and Wildlife Department; Archbishop Patrick Flores (at microphone); Mrs. Walter Scott Light, Chairman, San Antonio Missions Advisory Commission; City Councilwoman, Helen Dutmer; Mary Lou Grier, U.S. Department of the Interior, National Park Service. Photo taken by Michael Cappelli.


To Learn More:
Credit:
Courtesy of the San Antonio Conservation Society Foundation.
Click to Enlarge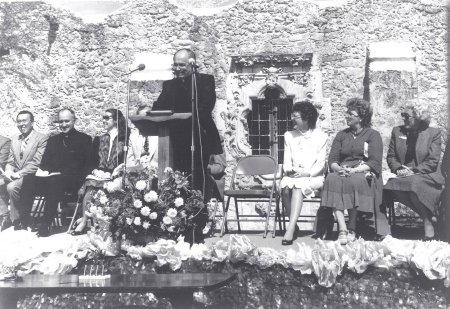 2/20/1983