History:
Architect James Murphy designed the Dullnig Building ca. 1883. It featured one of the first elevators in the city. Steam piped from Dullnig's coffee roasting plant on the west side of Losoya Street, near the corner of Crockett, powered the hydraulic elevator (Mosebach, "Former Clerks"). Dullnig also installed a soda fountain and ice cream shop in the basement of his new building. Fellow merchant Albert Joske became a frequent customer.


About this Image:
This photo was taken looking northwest at the Dullnig Building on the corner of Alamo and E. Commerce Streets. By this time, the Dullnig had lost its southeast tower and part of its façade to street widening.

The curved wall of the Royalty Coin/Clifford Building, built by J. Riely Gordon in 1893, is visible at the far left. The Boerner Building, which replaced the burned down Scholz Palm Garden, is also visible to the right of the Dullnig.


To Learn More:
Credit:
Courtesy of the San Antonio Conservation Society Foundation, Raba Collection.
Click to Enlarge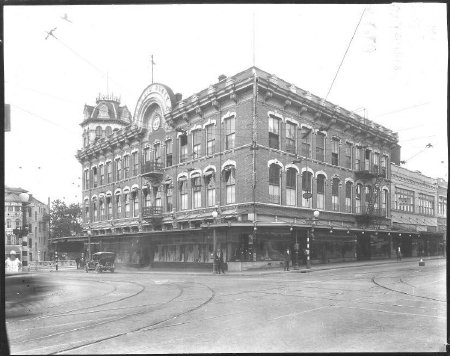 c. 1919