History:
In 1938, Joske's, which had grown to four stories through an addition made in 1910, purchased the adjacent Plaza Theater and Conroy Building. The Plaza Theater traced its origins to a radical alteration of the Gallagher Building in 1911 ("In 1938"). It became one of the first theaters to show "talking pictures" in San Antonio.

The adjacent Conroy Building had supported a massive, metal framed sign since 1913. Joske's later used this framework to create its famous Cowboy Sign, which used blinking electric lights to animate a cowboy roping a calf. The sign came down in 1939, when the Conroy and Plaza Theater were demolished for the store's expansion to the corner of Blum Street ("The Electric Cowboy").


About this Image:
Looking southeast towards the corner of Blum and Alamo Streets, c.1938. Left to right: Plaza Theater, Conroy Building, Joske's store. The Reuter Building is in the foreground at the right.


Credit:
Photo by N. L. DePree, Jr., Courtesy of San Antonio Conservation Society Foundation
Click to Enlarge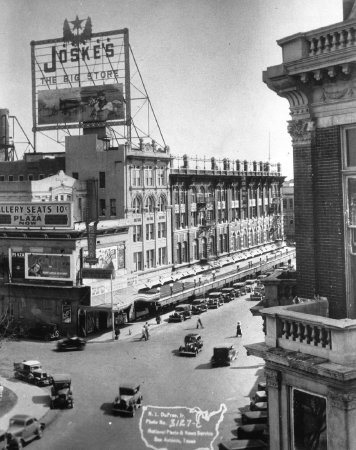 c. 1938