History:
San Antonians have flocked to Alamo Plaza to watch parades since the 1870s, when volunteer firemen marched in procession with the military and public officials (Sobre, 3).

Alamo Plaza's popularity as a parade site grew with its importance in civic life, particularly after its paving in 1888. As a result, a variety of colorful parades celebrating the Fourth of July, Juneteenth, German Volksfest, and the Battle of Flowers, passed through its streets annually.


About this Image:
Looking north at a soldier, who has dismounted and is posing for the camera with his horse on Alamo Street. The parade seems to have ended and people are crossing the street in the background. Behind them on the left is the Grand Opera House. The U.S. Courthouse and Post Office can be seen in the distance on the right. Notice the streetcar tracks down the center of the street.


To Learn More:
Credit:
Courtesy of San Antonio Conservation Society Foundation
Click to Enlarge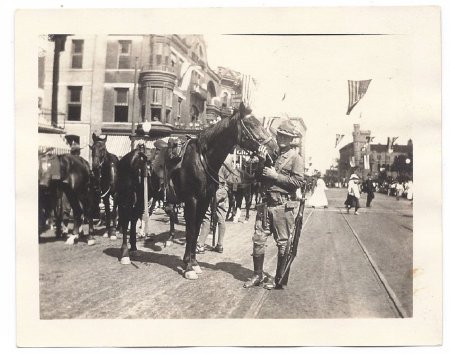 c.1911-1919