History:
"Billy's Barroom" featured Corinthian columns, a pressed tin ceiling, and an 18-foot long, mirrored bar. Patrons of the Grand Opera House crossed the street during intermission to enjoy liquor, wine and cigars. A bell connected to the opera house would ring just before intermission to alert the bartenders to "line the bar with drinks for the cultured customers" ("Billy Reuter's Saloon").


About this Image:
Interior of William Reuter's Saloon on the first floor. Several men stand along the bar, or sit at tables. The Victorian love of pattern and ornament can be seen in the pressed tin ceiling, tile floor, Corinthian column capitals, and elaborate bar.


Credit:
Courtesy of San Antonio Conservation Society Foundation
Click to Enlarge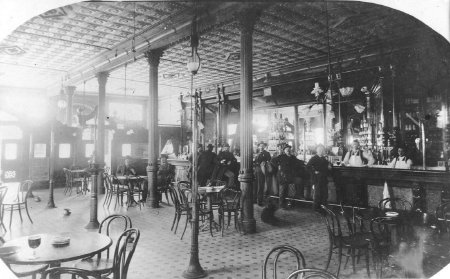 N.d.